PeakSmart air-conditioning
PeakSmart Industry Incentive Program
To recognise your support of the PeakSmart program, we're offering an incentive for each DCR Signal Receiver installed in eligible air-conditioners.
How does PeakSmart work?
Watch our short video about the PeakSmart program, read about PeakSmart air-conditioning technology, or visit our Frequently Asked Questions (FAQs).
Want to stay up to date about PeakSmart technologies and our demand management programs? Sign up for our PeakSmart Update newsletter.
PeakSmart signal receivers
PeakSmart enabled air-conditioners communicate with the network via a signal receiver. This can be supplied by the retailer with certain models of air-conditioner, or requested direct from us.
A maximum of 20 signal receivers may be ordered at a time. Before ordering, please check whether your customer already has a signal receiver.
Please allow 5 business days for delivery.
Request signal receiver(s) now
PeakSmart Industry Incentive
To recognise your support of the PeakSmart program, we're offering an incentive for the following PeakSmart air-conditioners sold.
| Cooling Capacity | PeakSmart Industry Incentive |
| --- | --- |
| 4kW or less than 10kW | $50 |
| 10kW or more | $50 |
To be eligible to receive a reward for each DCR Signal Receiver installed you need to complete the registration (link below) and also complete an Industry Submission Form, located at the bottom of Customer Self Service.
Register for our incentive program here!
Joint advertising
Enhance your advertising with the Energex logo. Complete a logo licence agreement. Once approved we'll email the logo for your immediate use.
In-store materials
To assist us with educating customers about PeakSmart air-conditioning and how it helps reduce peak demand, we have a range of promotional materials available for you to display in your store.
Email peaksmartadmin@energex.com.au to request materials for your store or click on the links in the table below to download and print them yourself.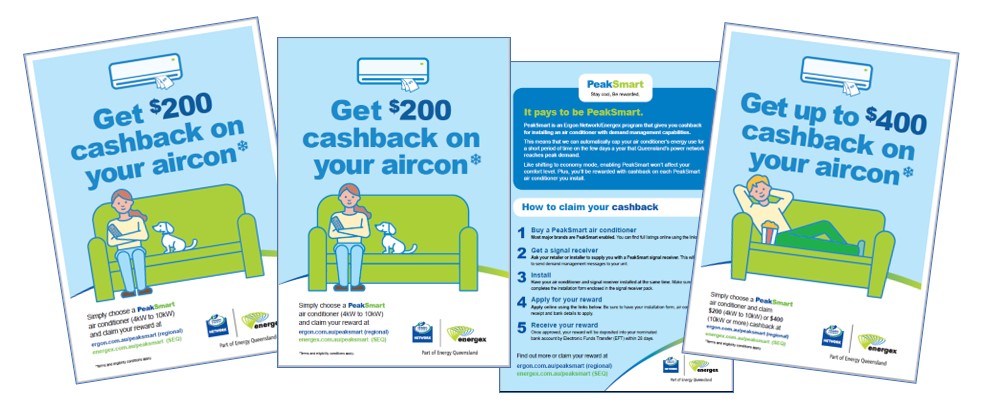 Installation instructions
Installing the signal receiver is generally consistent across all PeakSmart models. General installation instructions can be followed for the majority of PeakSmart models.For brand-specific information, contact the manufacturer hotline or download the relevant installation guide.
If you have any questions or issues when installing the PeakSmart signal receiver that isn't listed in the above installation instructions, please call our technical expert on 0418 212 140 (Monday to Friday between 9:00am and 4:00pm) or email peaksmartadmin@energex.com.au
Terms and conditions
Read the PeakSmart Industry Incentive Terms and Conditions (PDF 1.4 mb) for more information.