EV insights
Keep informed about what's happening with our Electric Vehicle (EV) research program as well as other relevant insights including volume of EV growth in Queensland and EV articles of interest.
If you have any questions about the information on this page, please contact us at evsmartcharge@energyq.com.au
EV SmartCharge Queensland Program Insights – 2021
Insight 1: Program overview and early insights
Learn more about the research program and the participants and how, by better understanding EV charging, we can:
Enhance our education to customers about the best charging methods
Prepare to influence and manage EV charging in mutually beneficial ways.
Fourteen different EV models are represented in the program, 76% of the participants had a solar system and 18% had a stationary battery.
Read more about the type of chargers and charging behaviour in our Program Overview and Early Insights (PDF 701.8 kb).
Insight 2: Weekday and weekend charging
This insight explores:
Are electricity tariffs influencing EV charging behaviour?
The number of vehicles charging during a weekday compared to the weekend is generally consistent, but when do owners charge their EVs most often and least often?
Does having solar panels, compared with having both solar and battery, impact an EV owners' charging habits?
Learn more in our Weekday and Weekend Energy Consumption Profiles (PDF 396.7 kb).
Insight 3: Battery state of charge and state of health
In this insight you can:
Learn if there are strategies to extend an EV battery's life ('whole of life')
See if EV battery degradation is occurring faster than you think
Check out how different vehicle types exhibit different State of Charge at both commencement and end of charging sessions and identify why BEV and PHEV owners' charging is different.
Read more about the regularity of EV charging behaviour in Battery State of Charge and State of Health (PDF 350.6 kb).
EV volumes
At the end of November 2021, Queensland had registrations for:
6,660 BEVs, including 24 electric buses,
1,964 PHEVs, and
909 electric motorcycles,
creating a total of:
8,624 EVs excluding motorcycles, and
9,533 including motorcycles.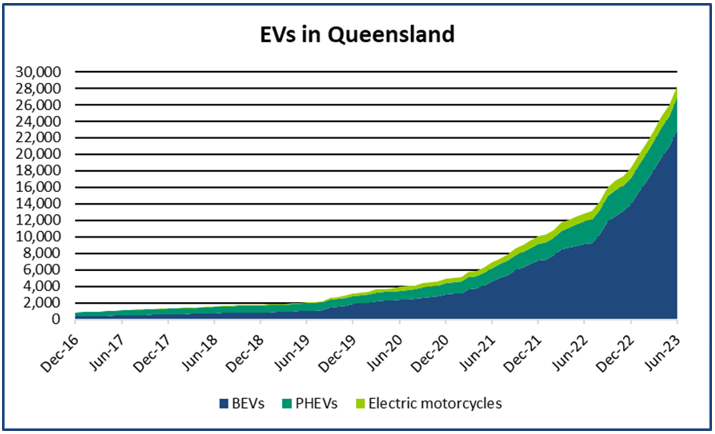 Source: Analysis of data of battery EVs and plug-in hybrid EVs, provided monthly to Energex and Ergon Energy Network by the Queensland Department of Transport and Main Roads, under a Memorandum of Understanding.
Of all EVs (excluding motorcycles) in Queensland, 90.1% are registered in south-east Queensland, and 9.9% in regional Queensland.
Except as permitted by the copyright law, you may not reproduce or communicate any of the content on this webpage, including files downloadable from this webpage, without the permission of the copyright owner.
Articles and research of interest
Note: The following are links to websites published by third parties not related to us. We have no control over the content of the linked sites and we make no representation as to the accuracy or reliability of information contained in the linked sites. We do not endorse or recommend any third parties, third party products or services, or other materials referred to in any linked site.
The (Australian) Electric Vehicle Council has released its annual 'Consumer attitudes survey':
A glimpse into the future of Vehicle-to-Grid (V2G) technology:
Data released by the Australian Bureau of Statistics indicates that in Queensland, passenger Battery EVs travelled 9.9% further than other passenger vehicles in 2019/20: